7 Best Audio Editing Software for Mac (Free and Paid)
Whether you want to create your own podcast or launch a YouTube channel, you are going to need an audio editing app on Mac that will let you edit your audio files, so you sound your best. It is common knowledge that what kills a good video is bad audio. Audio editing software is also needed if you want to get into music production. There are several excellent apps that you can use to edit audio on your Mac, and the one you should use will depend on your needs and budget. We will help you find that app for you. Here are the best audio editing software for Mac you should use in 2023.
Best audio editing software for Mac to use in 2023
Before you read the entire list, first, you should be clear on what you need from audio editing software. For example, whether you are looking for audio editing software to edit podcasts or something complex enough to help you score a movie.
You should also keep your budget in mind. No matter how good the software is, the one that you can afford will always serve you better. Finally, you should also keep your skillset in mind and ask yourself whether you are ready to invest time in learning audio editing software or not. Once you have answered all these questions for yourself, you will be able to find and focus on the software that will help you the most and will not waste time chasing the shiniest audio editing software on the market.
We have tried to structure this article by keeping all these things in mind. So, you will find the best free audio editing software, the best audio editing software for editing podcasts, the best professional audio editing software, and so forth. However, note that all these classifications are not entirely exclusive as most of the audio software have features that overlap with each other. At the end of the day, the best audio editing software for you will depend on what you need and feel comfortable working with. With all that said, here is our list of the best audio editing software for Mac that you should use:
Adobe Audition: best overall audio editing software

Logic Pro X: best DAW software for mac

Audacity: best audio editing software for podcasters

GarageBand: best free music production software

ocenaudio: best audio editing software for beginners

RX Post Production Suite 7: best audio post production tools

Fission: best for fast and lossless audio editing
1. Adobe Audition: best overall audio editing software
I want to start this list by using the most obvious and the best overall audio editing software that market has to offer. Whether you want to record and edit audio or want to create a background score for your upcoming movie, Adobe Audition can handle all your needs. Not only the software has all the features you require from an audio editing program, but it also has multi-track recording and editing capabilities, which is something that we associate with digital audio workstations. Adobe Audition also offers one of the best audio clean-up and restoration tools on the market. It supports a ton of plugins which add even more power to the software. Whether you want to remove noise with precision or add audio effects, you can find plugins for everything here.
My favorite feature of the Adobe Audition is its waveform editing environment which allows you to pinpoint the problems and apply necessary adjustments. Adobe also brings AI enhanced tools that can make your audio editing life easier. For example, there's an "Auto Ducking" feature that uses Adobe's AI-based 'Adobe Sensei' technology to automatically lower the volume of the background track to make the vocals more pronounced. Other features include batch processing of audio files, automatic speech alignment, iXML metadata support, synthesized speech, and more. You will also appreciate the clean and user-friendly UI.
Note that Adobe Audition is a pro audio editing tool, so users who have never used audio editing software before might find it a little difficult at the start. That said, Adobe does provide free tutorials for both beginners and experienced users, which should get you started.
Pros:
Good User interface
Extensive Editing Tools
Huge plug-in support
Great audio clean-up and restoration tools
Cons:
Subscription-based pricing makes it expensive for long-term use
Hard for beginners
Supported Platforms: Windows, macOS
Install: Free Trial, $19.99/month
2. Logic Pro X: best DAW software for mac
I love Apple's software products just for the fact that they integrate so well with the hardware. Final Cut Pro X is my favorite video editing tool, as it allows me to edit a 4K video on my 2016 MacBook Pro. The experience is the same for Logic Pro X. Despite being one of the best overall audio editing software, it works without any hiccup, even on the older generation of MacBook Pros. That said, let's move away from the obvious advantage that Logic Pro X has over other music editing software and talk about its features, starting with its UI. In my opinion, the user interface of Logic Pro X is probably the best among all the software listed on this list. It is clean, and every tool you want to access is accessible with just a few clicks.
Note that while you can use Logic Pro X for just editing audio files for your podcast or any other similar project, you will be under-utilizing the software, and it will be hard to justify its cost. Logic Pro X is a proper DAW (Digital Audio Workstation), which is aimed at music producers. It features a varied instrument library covering almost all music genres. What surprises me the most is how close the virtual instruments sound to their real counterpart. Even people with the most discerning ears will be able to tell them apart. What few instruments or music genres it doesn't support can easily be added thanks to its support for plugins and extensive plugins library, which is available for anyone to use.
My favorite music kit is the "Drummer Kit" plugin, which when enabled, gives you an AI-enabled drum track (electronic or acoustic) while you add your music on top. Logic Pro X also comes with more than 7000 royalty-free music loops that can automatically conform to the tempo and key of your project. There's also support for patches that allow you to quickly load complex multichannel sounds. There are features like "Smart Tempo" which automatically manages tempo across all the content in your project, Flex Time and Flex Pitch, Track Alternatives, automation, audio effects, music notation, and more.
The only problem with Logic Pro X is its cost. I think for people who are even going to use 10% of the features of Logic Pro X, the cost is justifiable. It's a one-time fee, after which the software is yours. There are no hidden charges and no subscription. That said, if you want to use it for normal audio editing, this will be an overkill, especially when there are several good options out there.
Pros:
Flawless integration with Mac hardware and operating system
A complete DAW
Drummer Kit
Over 7000 royalty-free track loops
Beautiful user interface
Cons:
High upfront costs make it inaccessible to many prospective users
Supported Platforms: macOS
Install: $199.99
3. Audacity: best audio editing software for podcasters
Not everyone needs a complete digital audio workstation. 90% of people who are looking for an audio editing software are looking for a simple program that can help them carry out basic audio editing such as trimming, noise reduction, voice modulation, background score addition, and so on. Whether you are a YouTuber or a podcaster or someone who just needs to edit audio for home videos, all of the above-mentioned audio editing software will be a bit overkill. You need a piece of software that enables you to perform these essential editing actions and is easy to learn and use. For that use case scenario, Audacity is the best tool on the market.
Don't get me wrong, you can use Audacity as a DAW (especially now that it supports MIDI import), but in my view, it's not meant for that. Its simple and approachable UI makes it best for users who don't want to spend months learning audio editing software. It is an open-source and free audio editing tool that brings a simple and interactive user interface with all the essential tools you will need. From recording your audio clips to editing them using cut, trim, copy, and paste tools, to using audio effects, generators, and analyzers, Audacity can handle everything. Since Audacity is popular, it is also supported by a host of plugin developers allowing you to find plugins for almost anything you might need for your project.
Despite being open-source and free, Audacity sees new updates regularly, so you are not left using a software of the past. Just recently, Audacity was updated to support the dark mode on macOS Mojave, and it looks great. There's also the new spectrogram view which allows you to pinpoint the problems and edit them accordingly. My favorite thing about Audacity is that it will take you just a couple of hours on YouTube to learn the basics and start your editing journey. That alone makes Audacity far more approachable than any other audio editing software.
Pros:
Free and open-source
Approachable and simple user interface
Doesn't require you to do a Ph.D. to start editing
Large and helping online community
Cons:
If you are the right target audience, I don't think there are any cons
The concerns about Audacity no longer being an open-source editor and becoming a spyware are overblown. So, please don't give those claims any heed. Here are some sources to put your mind at ease.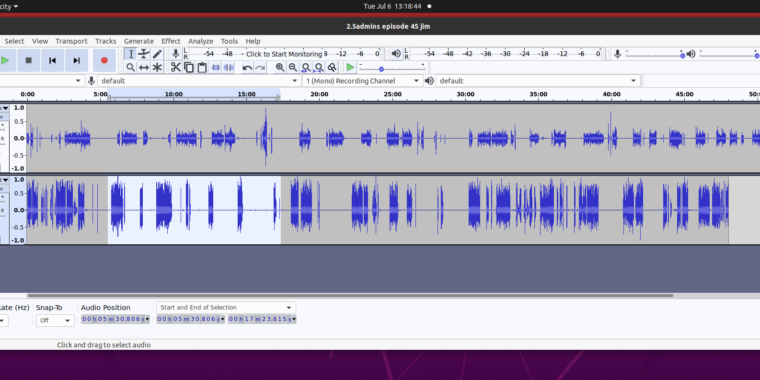 Supported Platforms: Windows, macOS, and Linux
Install: Free
4. GarageBand: best free music production software
Many Mac users overlook GarageBand as it comes pre-installed on their devices. If you are starting your journey as a digital music producer, this is the best free music production app you can use. The app lets you create your own music projects from scratch and offers a variety of virtual instruments, including synths, drums, flutes, violins, cellos, guitars, and more.
You can record your instruments and high-quality vocals using GarageBand without any issues. Another cool feature of GarageBand is that it offers a large collection of royalty-free Apple Loops, which you can search, preview, and add to your projects. GarageBand also lets you use the sampler, making it a good option for budding hip-hop producers.
Finally, the app also offers an excellent mixing and editing environment. You can move, trim, change the velocity, pitch, and duration of MIDI notes, adjust the tempo and transposition, use auto-tune, and so much more. If you want to get into music production, you should try GarageBand, as it is one of the few fully-featured music production apps which is free.
Pros
Comes pre-installed on Mac and free to use
Easy to learn for beginners
Free Apple Loops
Huge collection of virtual instruments
Cons
Large project files that can easily fill the storage
Lack of pre-sets in editing
Supported Platforms: iOS and macOS
Comes pre-installed on Mac
5. ocenaudio: best audio editing software for beginners
Just like Audacity, ocenaudio is a free and open-source audio editing software that brings a simple-to-understand user interface. If for some reason Audacity it doesn't feel right to you or you want to check out other audio editing software before settling on one, ocenaudio should be next on your list. Just like Audacity, ocenaudio features a clean editing environment, which makes it easy for beginners to get started. As far as looks are concerned, ocenaudio looks more modern than Audacity.
Coming to the features, ocenaudio brings all the basic audio recording and editing features. You can connect a microphone and press the record button and start recording. When you are editing, you can access all the tools, including track selection, track cutting and splitting, copy and paste, multi-track editing, and more. Just like Audacity, ocenaudio supports real-time preview for applied effects. Users can not only apply native effects but also use VST (Virtual Studio Technology) plugins to import effects that are not included with the software.
Like Audacity, ocenaudio also supports the spectrogram view. You can use it to analyze the spectral content of your audio signal for getting a better understanding of all the problems. ocenaudio is also good at handling big files. Even after uploading files that were multiple GB in size, the software didn't hiccup. I have a 2016 13-inch MacBook Pro, so it's not even that I was using it on a powerful machine like an iMac.
While ocenaudio is a good audio editing program, there is one big problem with the software that will turn many users off. The app doesn't support multi-track editing, which makes it useless for many users. I have so much fun using this program, and I prefer it over audacity both for its UI and speed. However, the missing support for multi-track editing means I cannot use this app for my work. Another drawback of this app is that it lacks a thriving online community.
You won't find many online video tutorials on this one. If your work involves multi-track editing, you won't be using ocenaudio. That said, for users who are just getting started with audio editing and don't require a multi-track editing program, this is the best free audio editing software on the market right now.
Pros:
Free and open-source
Modern looking UI
Easy for beginners
Support for VST Plugins
Can easily handle large audio files
Cons:
Multi-track editing not supported
Not many quality video tutorials available
Supported Platforms: Windows, macOS, and Linux
Install: Free
6. RX Post Production Suite 7: best audio post production tools
iZotope RX Post Production Suite 7 without a doubt is the best post-production tool available for audio editors. iZotope has been leading the industry when it comes to refining audio for decades now, and no other company comes even close to it. The latest version 7 update has made its tools even more potent. The suite comprises multiple tools, namely RX 10 Advanced, Dialogue Match, Neutron 4, Stratus 3D, Symphony 3D, Stratus 3D, Nectar 3 Plus, Insight 2, and RX Loudness Control. Each tool serves a specific purpose, and combined, they can fulfill all your post-production audio editing needs.
Starting with the RX 10 Advanced, it brings a powerful repair assistant that can automatically recognize noise, clippings, clicks, hums, and more and remove them with a click. Dialogue Match automatically learns and match the sonic character of dialogue recording. Neutron 3 is a professional tool for building great mixes. It brings a "Mix Assistance" which can listen to all the tracks in your mix and gives you a balanced starting point. Similarly, the rest of the tools in the suite bring features to tackle a specific part of audio post-production.
But only the power of tools is not what iZotope known for, it's also known for the way it presents the tools. All the tools work in a highly visual way, giving you a good look at the problems and what you can do to solve them. Just look at the screenshots above, and see how audio is represented in a detailed way. That said, all this power comes at a cost, and if there's one thing more that iZotope is known for, it's for its pro pricing. If your work revolves around fixing audio and audio post-production, these tools can save you so much time while delivering a better product that you can justify the price. However, if you are someone looking to get into audio editing, it will be hard to swallow the bill.
Pros:
Best audio production tools on the market
Best noise removal
Available as plugin for your favorite audio editing software
Repair and salvage lost audio
Automatic audio processing tools make it easy to use
Cons:
Supported Platforms: Windows and macOS
Install: $1844
7. Fission: best audio editing software for fast and lossless audio editing
If you find all of the above audio editing software to be too complex then check out Fission. It's a simple audio editing software that focuses on providing a fast and lossless audio editing environment. You get quick access to all the audio editing tools. You can join, cut, and trim audio, edit audio metadata, use the batch converter to convert multiple audio files at once, and more. I love that it supports multiple file formats, and you can easily edit and convert files to MP3, AAC, Apple Lossless, FLAC, AIFF, or WAV.
For quick edits, you can also use Fission's smart split feature, which automatically cuts audio files based on silence. Other features include gain adjustment, cue sheet support, volume normalization, and more. Fission is made by Rogue Ameba, a company that is well known in the Mac community for making splendid audio products, and Fission is no different. If you don't want to invest time in learning audio editing and want a quick and easy-to-use tool, this is the one to get.
Pros:
Best for quick editing jobs
Supports lossless editing
Supports multiple file formats
Batch processing
Cons:
No pro editing features presence
Supported Platforms: Windows, macOS, and Linux
Best audio editing software: final thoughts
There are several other pro-level DAW software on the market that have not made this list as we have no experience in music production. The article is for audio editing software, so we have kept the list to reflect that. The only reason we have mentioned Logic Pro X is that we know some users will be looking for a DAW software here, and for them it's going to be useful. If you are working with spoken audio and want a free editing app, very few apps can beat Audacity, and hence it's on the list.
But we love the user interface and speediness of ocenaudio, and hence it made the list too. What we are trying to say is that every person has their specific requirements, and the software you choose will depend on that. We have chosen the seven apps that will meet the needs of 90% of users reading this article. If you want something more specific and don't know where to look, drop requirements in the comments section below, and at the least, we will guide you in the right direction.